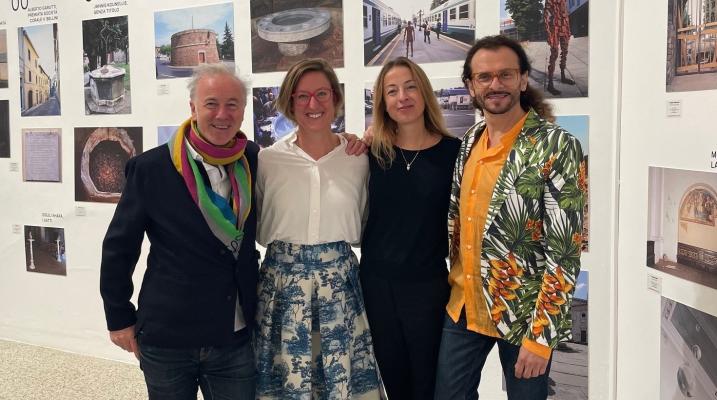 Beginning: 18:00
In the Telegraph Cinema Contemporary Art Collecting lecture series, you will hear from successful and emerging collectors or curators and experts in contemporary art investment about the impulses that led them to become interested in the contemporary art market. They will reveal how they build or help build their collections and what their criteria are when selecting specific works. The lecture series is aimed at the layman with an interest in art, as well as collectors who are puzzling over how to evaluate their collection or create a remarkable and unique collection.
The lecture will be given by art historian, gallerist and curator Lucie Drdová and Nicole Stava, director of Art 4 Bechyně.
Lucie Drdová is an art historian, gallerist and curator. In her profession, she combines academic education (Seminar of Art History at Masaryk University in Brno and University of Applied Arts in Vienna) with professional experience from European exhibition institutions (Museum of Modern Art of the Ludwig Foundation in Vienna and Academy of Fine Arts in Prague). In addition to her curatorial activities - for example, she was curator of Rony Plesl's exhibition Trees Grow from the Sky, which was part of the official programme of La Biennale di Venezia 2022 in the Collateral Events section - she also lectures and publishes. She focuses on topics related to the institutional context of contemporary art, gallery practice and the work of contemporary artists, and writes about the art market for Czech professional media and magazines. Based on her experience of running a private gallery in Berlin, she founded her own gallery (Lucie Drdova Gallery) in 2012, focusing on contemporary art with branches in Prague and Brussels. In collaboration with other gallery entities she cultivates a common space. She co-founded an association whose aim is to spread awareness of the work of Czech galleries (the Alliance of Galleries of Contemporary Art and its initiative SUMO Prague).
Nicole Stava, together with her sister Silvia, runs the company Panství Bechyně, where, among other things, she has long been involved in the international art trade. At the same time, she is the director of Art 4 Bechyně, which initiates a large-scale project of contemporary art exhibitions and a sculpture park at Bechyně Castle. For a number of years she worked as a senior consultant for business development at Christie's auction house in Prague, Vienna and London. Since 2009, she has owned Nicole Stava Art Acquisitions and Sales, a full-service international art business. From 1998 to 2001 she helped Prof. Vladimír Preclík to organize summer exhibitions in the castle granary, then the Vladimír Preclík Museum. At that time, the castle's extensive collection of Czech contemporary art was being built up. In 2002, she curated an extensive exhibition of ceramic objects by Pablo Picasso, also from her private family collection. She subsequently studied in the Cultural and Creative Industries Master's programme at King's College London. During her studies, she began to pursue a professional career in the art market, and two years ago she again took over cultural management and collections care at Bechyně Castle.