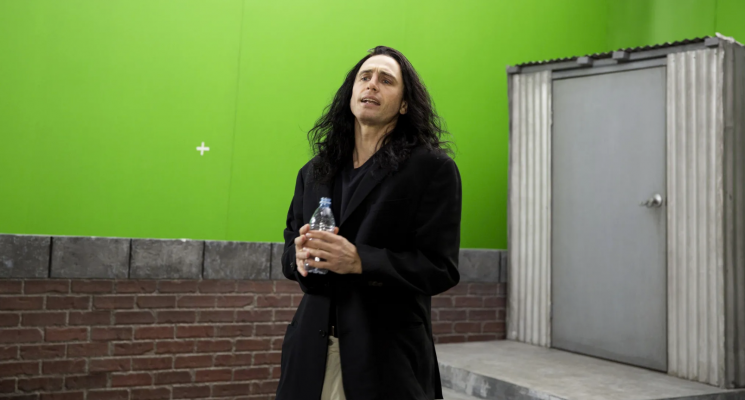 Začátek: 21:00
Příběh o vzniku filmu, který byl ve finále tak špatný, až se stal kultem. James Franco se stává Tommym Wiseauem. Tragikomický a přitom inspirativní příběh ve světě céčkového hollywoodu uvedeme pod širákem v atriu! Kdo neviděl, neuvěří...
Devatenáctiletý Greg Sestero, který studuje divadelní školu, se během jedné z hereckých hodin seznámí s Tommym Wiseauem. Spřátelí se a Tommy mu později navrhne, aby se přestěhovali do Los Angeles a věnovali se tam herecké kariéře. Greg je uchvácen, že si jeho kamarád může dovolit bydlení v LA. Když přijde řeč na Tommyho osobní život a původ finančních prostředků, tak to Tommy přejde mlčením. Záhy Greg podepisuje smlouvu s agentkou mladých talentů Iris Burtonovou a pravidelně se účastní konkurzů. Tommy na nich nikdy nemá úspěch. Filmových rolí je málo, a tak se oba muži rozhodnou, že natočí vlastní film, ve kterém budou hrát hlavní role. Tommy je sice podivín, ale o to s větším nasazením a zápalem je zahájeno natáčení filmu The Room. Jak čas plyne, tak se začíná ukazovat, že pracovat s Tommym bude ve všech směrech čím dál víc obtížnější... 
The Disaster Artist, české titulky
Životopisný / Komedie / Drama
USA, 2017, 104 min
Režie: James Franco
ENGLISH FRIENDLY
The story of the making of a film that was so bad that it became an instant cult. James Franco becomes Tommy Wiseau. A tragicomic yet inspiring story in the world of C-grade Hollywood will be screened it under the stars in the atrium! If you haven't seen it, you won't believe it...
Nineteen-year-old Greg Sestero, who is studying theatre school, meets Tommy Wiseau during one of his acting classes. They become friends and Tommy later suggests they move to Los Angeles to pursue acting careers. Greg is thrilled that his friend can afford to live in LA. When the subject of Tommy's personal life and the origin of his finances comes up, Tommy passes over it with silence. Soon Greg signs a contract with young talent agent Iris Burton and regularly auditions. Tommy is never successful. Film roles are scarce, so the two men decide to make their own film in which they will play the leads. Tommy may be an oddball, but the filming of The Room is started with all the more commitment and enthusiasm. As time passes, it becomes apparent that working with Tommy will become increasingly difficult in every way... 
ENG Trailer: