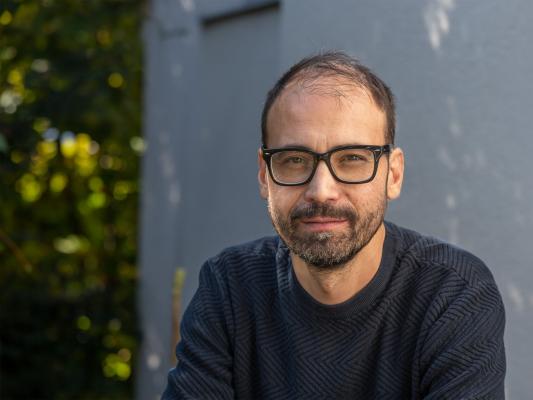 In November, David Voda - Olomouc poet, literary and art reviewer, essayist, editor and head of Olomouc's Rub Gallery - will come to the Telegraph to read. He has written about its dramaturgy: Rub Gallery is an Olomouc art gallery featuring international artists and artistic legacies of the nineteenth, twentieth and twenty-first centuries. The gallery's mission is to collect, exhibit and sell classical modern, avant-garde, post-war and contemporary art
and design, e.g. forgotten c. and k. heroes, the Zlín avant-garde during World War II or anthroposophical art revolutionaries.
David Voda also publishes in magazines such as Listy, A2, Ateliér, etc. He is also a publisher. As a poet, he introduced himself to the general public in 2010 with his collection Snows and Others (Fra, Prague 2010), which was nominated for the Magnesia Litera Award in the category of discovery of the year. In the Telegraph he will read from his latest collection, Automat na plyšáky (Fra, Prague 2021).
Lubomír Tichý has written about the collection:
"Vod's language has infiltrated everything that is both extremely unbearable and very fascinating; I imagine the author drawing on letsplay videos of 14-year-old boys, on the lyrics of Czech rappers with their spasmodic similes, on the lascivious speeches of the presenter of Radio Fajn. However, all of this is used in very unusual figures and tropes, combining hackneyed phrases with original metaphors. And with this subversive language, the subject speaks to his love; the result is a raw, poignant and rough love poetry, but one that - in a post-digital world - is a thousand times more authentic than any other. Voda's lyrics make us think about the degree of stereotypes, kitsch and clichés we can bear, what we perceive as a beautiful turn of phrase and what we perceive as a terrible sentence. Reading it, I then find myself staring for several minutes at the line "When I'm down, I glue a herbarium of your seaweed" and wondering whether I consider it utter ugliness or the most beautiful declaration of love."
Presented by Klara Machů and moderated by Klára Machů.
Programme subject to change.